PHYSIOLOGICAL LIMITATIONS
Small stomach capacity
Immature kidney function
Lower digestive ability than adults
Low HCL in stomach
Low levels of digestive enzymes
Low lipase and bile salts

BREAST MILK COMPOSITION: Best Nutrition for Babies
The role of protein in Paediatric Nutrition
Protein is important for the growth and maintenance of our tissues and organs; however, do we know how much is enough for babies?
High protein intake early in life has been associated with obesity later in life.
Protein in Human Milk
Protein is a prime example of how human milk is unique nutrition( no wonder we call it the Best food of choice) for human babies.
Human milk is LOW in protein, at least when compared with the milk of other species, especially cow's milk.
NOTE: This is not a Nutritional deficiency; there are good reasons for this as Human infants are designed to grow slowly and steadily (developmental milestones)
High protein in infant diet leads to an increase solute load for the KIDNEY. •High protein in infant diet leads to rapid rate of growth-Obesity.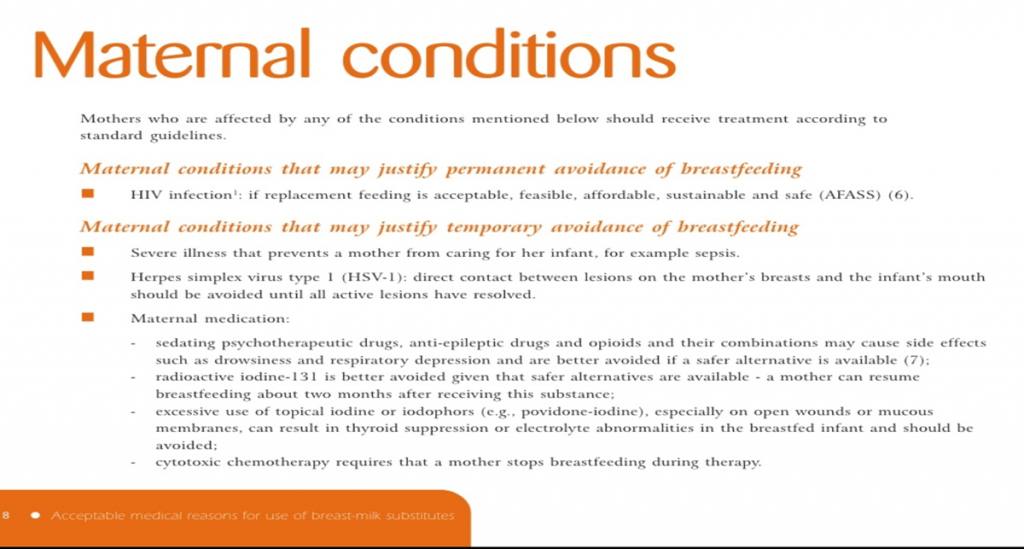 Why is unmodified cows milk unsuitable for infants?
Nutritionally unbalanced for the human infant
High renal solute load –3 times as much protein as human milk –Excess sodium
Too low in iron
Difficult to digest fats
Poor in essential fatty acids
Too high in casein leading to a poor protein quality
Infant Formula feeds
It must be an age-appropriate breast milk substitute tailored to meet the developmental milestone of the child; 0-6months, 6-12 months as the infant's nutritional needs are different at this stages. This also ensures less stress on the infant's immature organs.
The lower regulatory limit for protein content of formula milk for children aged 0-6 mths is 1.8g/100kcal (1.2g/100mls) in both the EU and US, with the actual protein content in some formulas typically exceeding this level!!!.
SUMMARY
A baby grows faster during the first year of life than anytime in life.
A baby's birth weight doubles during the first 6 months and triples by the end of the first year.
Adequate nutrition is critical to support this rapid growth and development.
CONCLUSION
Ensuring infant's healthy growth and development without metabolic stress has adequate nutrition at its core.
Starting from the timely initiation of breast milk and appropriate age-related substitutes where medically indicated to cater for increasing energy and nutrient needs of infants, to nutritional vigilance against harmful practices that can alter the outcome of raising healthy children.
HCPs to guide Moms on age-appropriate food choices for the child
–Size of tommy means dense nutrition
–Growth requirements means adequate nutrition
–Limited digestive capacity means right composition
References
Pronczuk J  Global perspective in breastmilk contamination: Infectious and toxic hazards. Environ Health Pesrpec,2002,110: A349
Acceptable medical reasons for use of breast milk substitutes 1 WHO/NMH/NHD09.01 WHO/FCH/CAH/09.01